SHIP EMISSIONS
From Science to Policy

Ship Emissions – from Science to Policy Changes
IENV has been undertaking a number of scientific studies to identify key marine pollutants in Hong Kong since 2006. The findings clearly suggests that the ambient air pollution in the whole region is predominately contributed by emissions from the marine transport sector. Identifying the pollution source is important and helpful for the formulation of effective mitigation measures to reduce both the emissions and public health risks.
Over a decade, great efforts have been made between policy-makers, scientists, government officials and civil society leaders on ship emissions reduction strategies. IENV's marine emissions research findings have been playing a key role in offering scientific evidence to support collective efforts from the government and the industry to tackle ship emissions in Hong Kong and the PRD region. The classic example is the Fair Winds Charter - the world's 1st industry-led voluntary fuel switching initiative - which shows how scientific research could be successfully supporting policy change.
---
Influencing Policy-making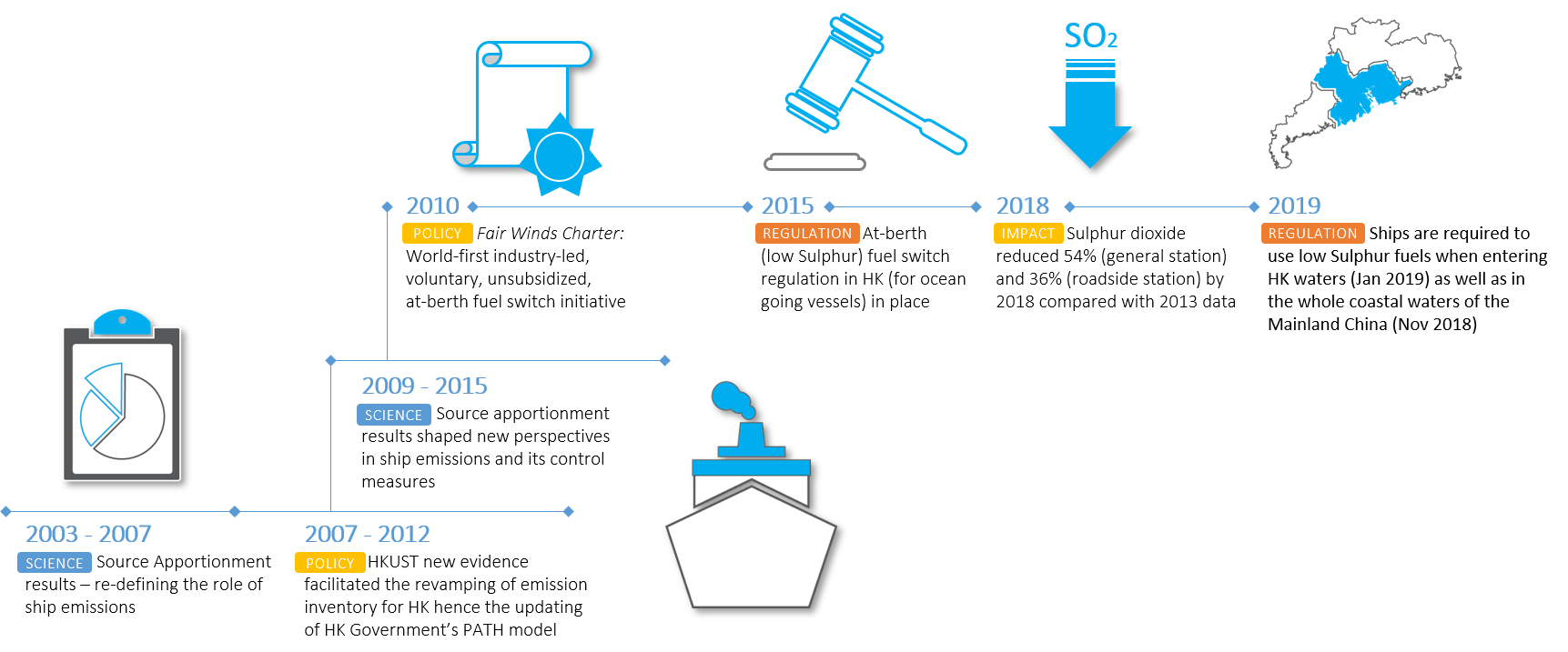 ---
Impacts
IENV's marine emissions research findings laid solid foundation for ongoing policy innovations in Hong Kong and the PRD - which included:
The Fair Winds Charter (commenced from 1 Jan 2011, which ended 31 Dec 2014)
Government announced the Port Facilities and Light Dues Incentive Scheme for OGVs using Cleaner Fuel (September 2012)
New regulation to require ocean-going vessels to switch to clean fuel while at berth (effective from 1 July 2015). Kwai Chung air-quality-monitoring station, in the vicinity of the container terminals, has recorded an about 60 per cent reduction in average SO2 concentrations in the past three years, compared with 2014
New regulation to require all vessels to use compliant fuel within Hong Kong waters, irrespective of whether they are sailing or berthing (effective from 1 Jan 2019)
Chinese Ministry of Transportation rolled out the "Implementation Scheme of the Domestic Emission Control Areas for Atmospheric Pollution from Vessels" (to regulate fuel use with Sulphur content not exceeding 0.5%) for vessels within the Pearl River Delta, the Yangtze River Delta and the Bohai-Rim Area (effective from 1 Jan 2019)
---
Related publications
Zhang Y, C Loh, GR Patchell, KS Tsai. (2023). Multi-scale policy diffusion of marine emissions governance. Marine Policy 153, July 2023, 105637 (in press). https://doi.org/10.1016/j.marpol.2023.105637
Zhang Y, C Loh, PKK Louie, H Liu, AKH. Lau. (2019): The roles of scientific research and stakeholder engagement for evidence-based policy formulation on shipping emissions control in Hong Kong. Journal of Environmental Management 223, 49-56. https://doi.org/10.1016/j.jenvman.2018.06.008
Zhang Y, JCH Fung, JWM Chan, AKH Lau. (2019): The Significance of Incorporating Unidentified Vessels into AIS-based Ship Emission Inventory. Atmospheric Environment 203, 102-113. https://doi.org/10.1016/j.atmosenv.2018.12.055
Ng, S, C Loh, CB Lin, V Booth, JWM Chan, ACK Yip, Y Li, A.K.H. Lau. (2012): Policy change driven by an AIS-assisted marine emission inventory in Hong Kong and the Pearl River Delta. Atmospheric Environment 76:102–112. https://doi.org/10.1016/j.atmosenv.2012.07.070
Ng, S, C Lin, JWM Chan, ACK Yip, AKH Lau, JCH Fung. (2012). Study on Marine Vessels Emission Inventory, Final Report. Report submitted to Hong Kong Environmental Protection Department. Institute for the Environment, Hong Kong University of Science and Technology, Hong Kong.